COVID-19 Response
The health and safety of residents and staff is New Horizons' top priority. It is with immense gratitude that we note the remarkably low incidence of COVID-19 in our retirement community since the onset of the pandemic. Today, all residents and the vast majority of staff are fully vaccinated.
With the ongoing wellness of our community in mind, we will continue to heed the recommendations of Centers for Disease Control, Massachusetts Department of Public Health, Executive Office of Elder Affairs, and Governor Baker. These governing authorities have allowed us to gradually begin resuming socially distanced activities, such as bingo, cribbage, and religious services, and reopening amenities, including our popular on-site salon service.
In light of our vaccination rate and renewed opportunities for socializing with neighbors, now is an excellent time to seriously consider a move to our independent and assisted living community. We encourage you to contact us today to learn more or schedule a tour.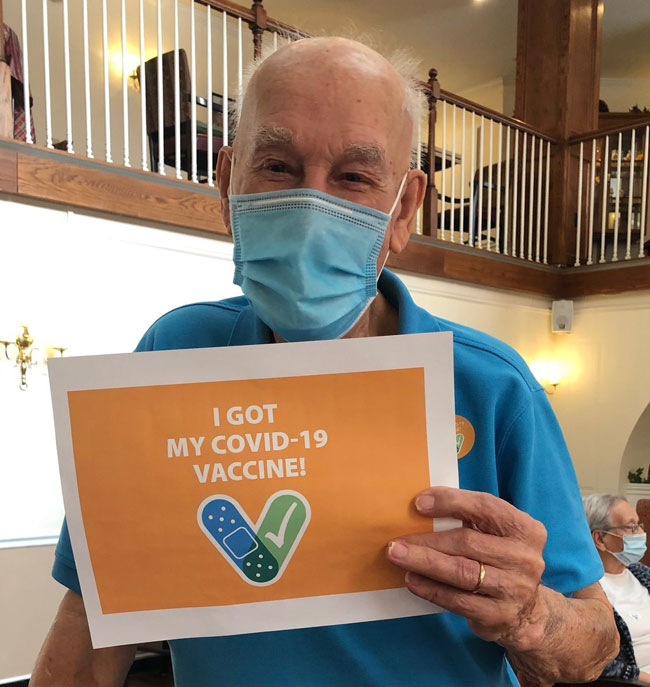 Testing and Vaccination
After Massachusetts National Guard completed widespread COVID-19 testing at New Horizons in April 2020, our community became the subject of much media buzz. As reported by local media, the testing found zero cases of COVID-19 among New Horizons residents. An additional round of testing performed the following February was equally uplifting: Of the 141 residents and staff tested, every single one returned a negative result.
In January of 2021, CVS Pharmacy administered 188 vaccination shots to residents and staff at New Horizons' first on-site COVID-19 clinic. By early February, the community was among the first Massachusetts senior living communities to have received both doses of the vaccine.
Making the Best of It
Throughout this challenging period, our residents have responded to the evolving safety protocols with inspiring pluck and cooperation. Even while diligently practicing social distancing, meticulous hand hygiene, and mask safety, they have deepened their bonds with their neighbors and created an in-house support system akin to family.
Our staff has demonstrated an equally resilient attitude, ramping up their cleaning protocols and employing creative solutions to ensure that our community remains a stimulating hub of social activity. We all spread out while enjoying outdoor concerts, exercise classes, and a variety of games. And weekly door-to-door wine and cheese and ice cream sundae deliveries quickly became favorites for many at New Horizons.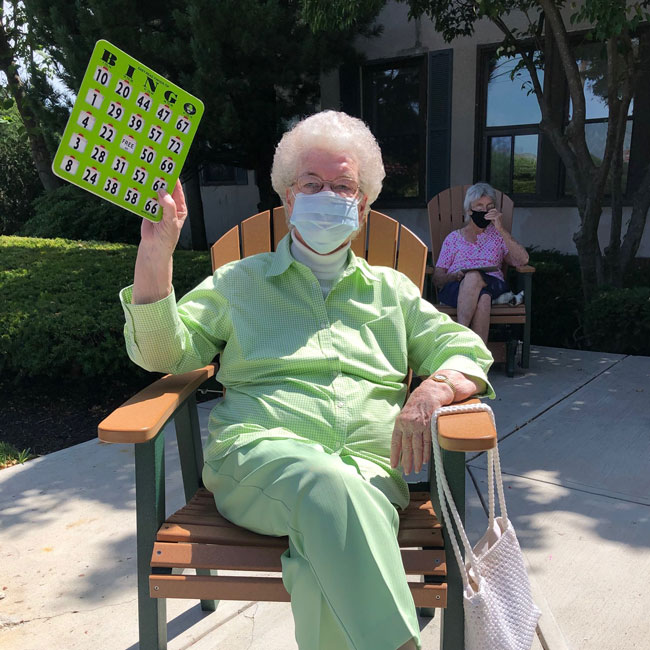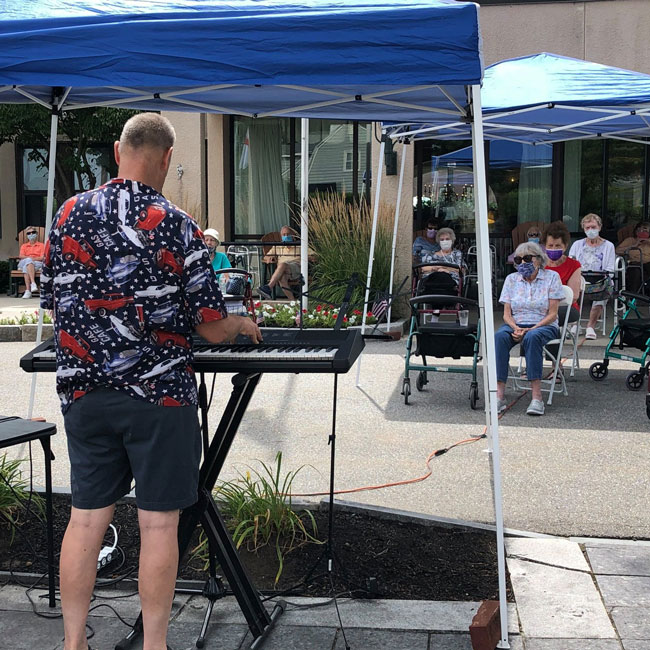 We delighted in organizing a social media campaign and outdoor graduation ceremony to fete our student workers, and we were thrilled to celebrate milestone birthdays with memorable car parades for two resident centenarians. There was also much hubbub when Boston 25 News joined us during its Woburn Zip Trip to spotlight Director of Community Relations Barbra Graham as a 2020 Hometown Hero.
When it became too cold for outdoor visits with friends and family, the New Horizons team quickly mastered Zoom, Facetime, and other videoconferencing technology so they could facilitate virtual visits between residents and their loved ones.
We extend our heartfelt thanks to our residents, their families, and their caregivers as well as New Horizons' dedicated staff for their support, cooperation, and diligence throughout the pandemic. Your efforts helped to minimize risk and to maintain the warmth and joyfulness of our community.
Both New Horizons are strictly not-for-profit communities owned by Cummings Foundation, one of the largest private foundations in New England. Cummings Foundation awards more than $25 million annually, and has awarded more than $300 million to date to support greater Boston nonprofits.